This is a list of the various products and tools that are used industry wide to enhance dry-fire and laser simulation training!
1: SIRT Training Pistols by Next Level Training
The SIRT (Shot Indicating Resetting Trigger) Pistol by Next Level Training is the industry's most recognized training pistol. It comes in 3 different styles which closely replicate a Glock 17, M&P Full Size, and the Pocket Pistol which is comparable to a Glock 43 or M&P Shield. Lasers available in green or red, removable magazines on the larger models, a "take-up" laser, weighted to appx weight, and with a functioning rail for accessories. Check them out here.
2: LaserLyte Training Pistols
Available in a "Full-Size," "Compact," and "Revolver" models, the LaserLyte pistols are more economic options. They don't replicate any specific make or model of gun. The triggers aren't very realistic and they lack some of the other features of the SIRT pistols but make for a good lower cost option for many. Learn more here.
3: Advanced Laser Training Pistol by Laser Ammo Technologies
Available in 2 models (Basic and Advanced) this training pistol is modeled very closely after a M&P. It comes with a SureStrike laser cartridge, has a rail, and the Pro model has a trigger guard alarm feature. It has a removable magazine and LED indicator lights. Learn more here.
4: LASR App – Laser Training Software
The LASR (Laser Activated Shot Reporter) software is a phenomenal tool to facilitate more effective dry fire training. It will work with any laser training device and can be downloaded and run on any Windows computer using any built in or USB webcam. It is hard to do it justice in just a sentence or two but trust me you are going to want this. It will run specific drills, call reloads, work with multiple targets, provide shot times, and endless other amazing features. Learn more here.
5: MantisX or Targetize- Rail Mounted Device That Sends Shooting Data to App On Your Phone
MantisX is the original system for diagnosing shooting problems. It mounts to your gun and sends data back to an app on your phone after each shot. Targetize is a new product on the market that very clearly has attempted to copy the MantisX. These tools greatly enhance both live fire and dry-fire training.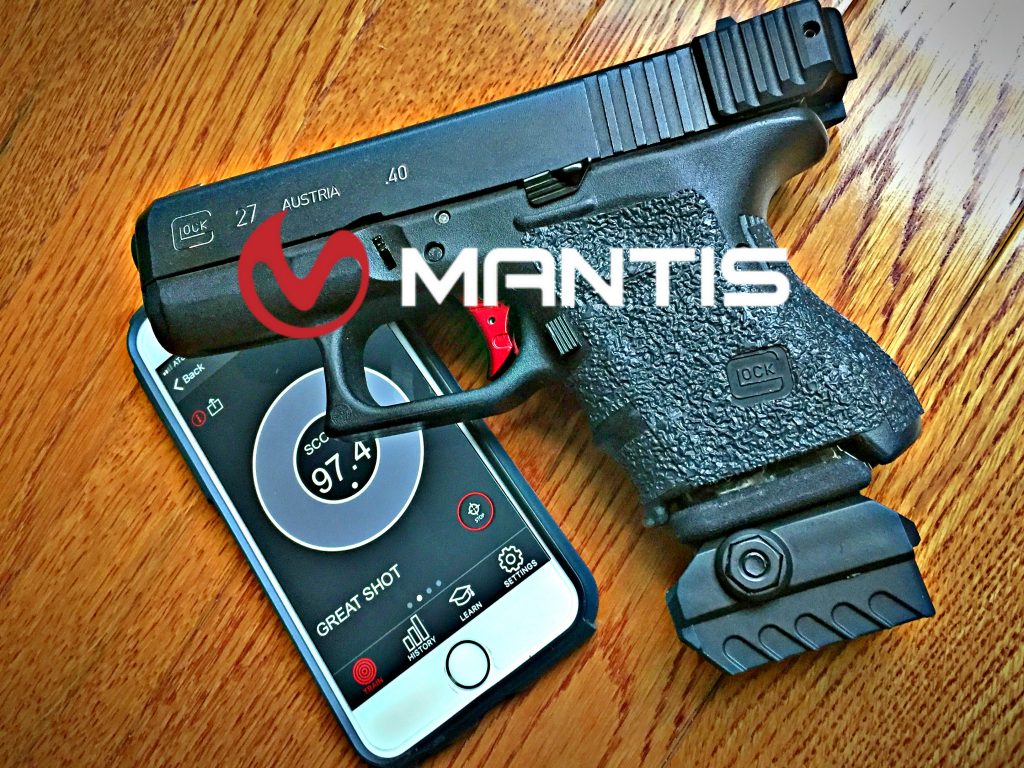 6: Glock E-Trainer
The Glock E-Trainer is a simple device that is attached to the slide of your Glock handgun. It prevents the trigger from breaking and prevents the firing pin from being released. This allows the user to operate the trigger without having to rack the slide to reset the trigger. A very economic and simple device that plays a good part of any dry fire training strategy. Learn More Here.
7: LaserLyte Laser Training Targets
LaserLyte makes some affordable targets that can be used with any laser training device. There are a few options depending on what you want. Learn More Here.
8: Laser Inserts – Cartridges that are inserted into the Chamber or Barrel
Laser Inserts allow you to drop a laser activated cartridge into the chamber of your real firearm. Each time the firing pin strikes, a laser is emitted. Great tool. Learn more here.
9: Snap Caps or Dummy Rounds
Dummy rounds are great for both dry fire and live fire training. An affordable tool that everyone should own. Learn more here.
10: CoolFire Trainer
The CoolFire training system replaces a few simple internals of your real firearm and operates on gas. It allows the user to use their real gun for real training with a laser point of impact. Available for a lot of popular handguns the CoolFire system isn't cheap but is hard to beat when it comes to real life simulation. Learn More Here.
11: Boresight – Inserted Into the Chamber and Displays a Constant on Laser
Since good shooting is essentially just holding a gun really still while you operate the trigger a boresight can be a good tool to measure your ability to hold the gun still. Shop here.
12: DryFire Mag
DryFireMag is a clever product. Essentially a replacement magazine for your Glock or M&P that allows the trigger to operate and reset without racking the slide. Learn more here.
12: Airsoft Guns
There are a lot of Airsoft guns that you can purchase now that are directly designed to look and feel like your real firearm. These often have some amount of recoil and can be outfitted with laser emitting barrels or inserts. Learn more here.
13: Dry Fire Training Cards
More than 50 dry fire drills that have been proven over the years to help a shooter build skills. A great and easy resource to help your practice sessions stay fresh and well rounded. Learn more here.
14: Live Fire Drill Cards
It may sound weird that something called a "Live" Fire Drill Card would be listed with other Dry Fire tools but these drill cards are awesome for both live and dry fire practice sessions. Learn more here.
15: Dry Fire Primer Book
Previously only available for Kindle but now in print, this book is an essential tool for any gun owner who wants to engage in regular dry fire practice. Learn More Here.
In Summary
Hopefully this gives you a strong overview of the various tools and products available that can enhance your dry fire practice and experience! Let us know about your favorite products in the comments below.