Description
Introducing The Most Versatile, Reliable, High Tech, Economic Shot Timer Ever
Why Do You Need A Shot Timer?
Serious shooters use shot timers. Here are some reasons why:
You can only improve what you can measure. When it comes to shooting the primary methods for measuring are accuracy and speed. You need a shot timer to measure speed
Among the best way to improve specific skills is to practice industry-standard drills. These drills have par times and scores that help you know how you are performing. Without a shot timer you can't measure yourself against others
If you enjoy some friendly competition you can use a shot timer to enhance the fun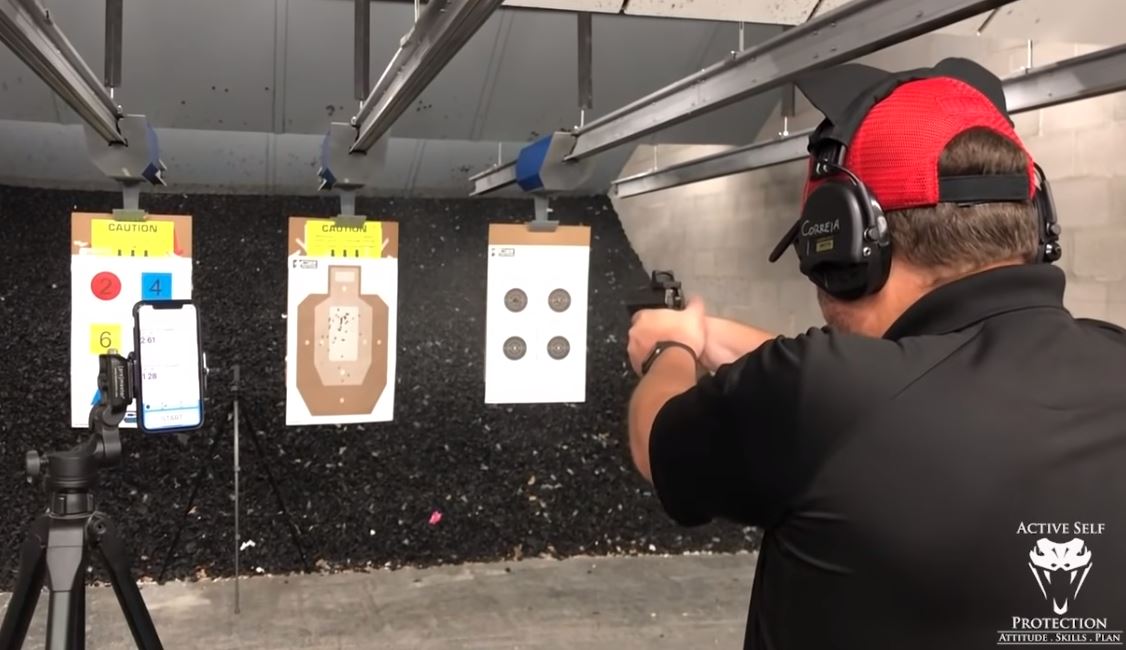 John Correia from Active Self Protection on the range training with the RangeTech Shot Timer.
Cost
For too long Shot Timers have been too expensive for a lot of consumers to invest in. It is like a monopoly with only 3 or 4 companies that make them. With basically no competition they have been able to keep the prices over $110 with some of the models at or above $150.
This image represents most of the available shot timers on the market. This screenshot from Amazon.com shows that the lowest cost option currently is $109.99.
One of our core goals with RangeTech is to make shot timers affordable to every shooter. That is why the RangeTech Bluetooth Shot Timer is only $74.99.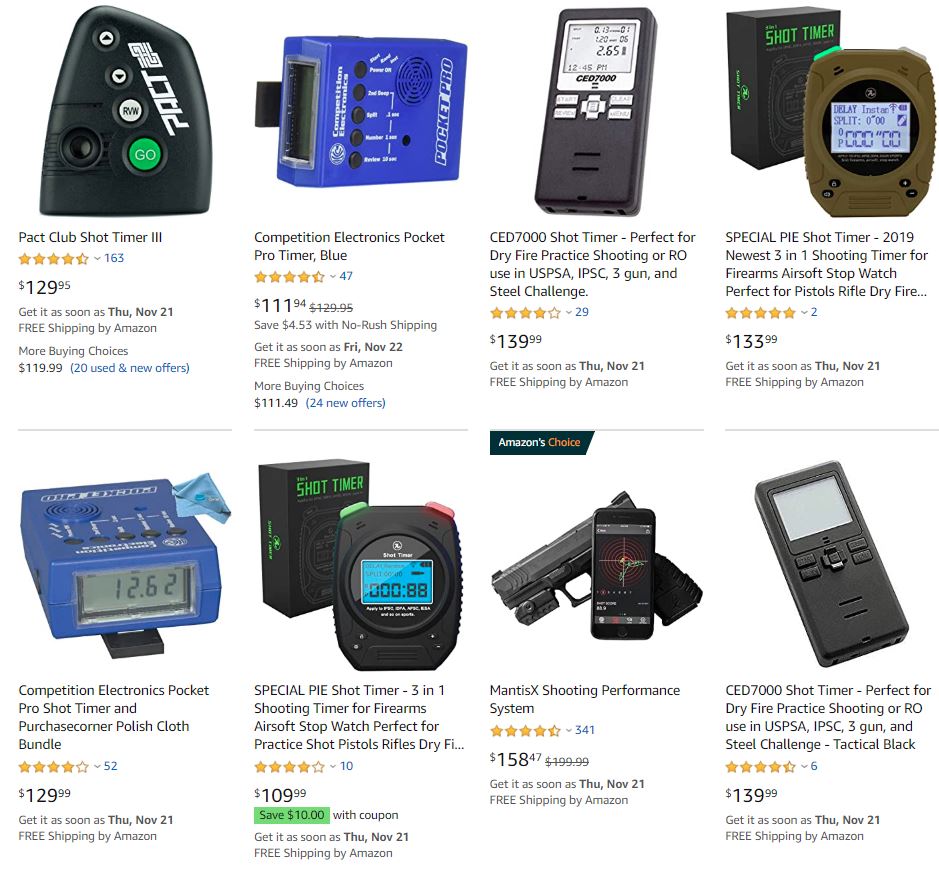 Saved Data
If one of the core reasons for having a Shot Timer is to improve over time then you need to see your scores and times over time. For decades shooters have been writing everything down, buying range notebooks and keeping track of performance that way.
Now with RangeTech, you can save any of your shooting data directly to our web interface. Login and review your past data any time you want.
You can even attach pictures of your targets to any saved string of fire in order to have visual feedback along with the timer data.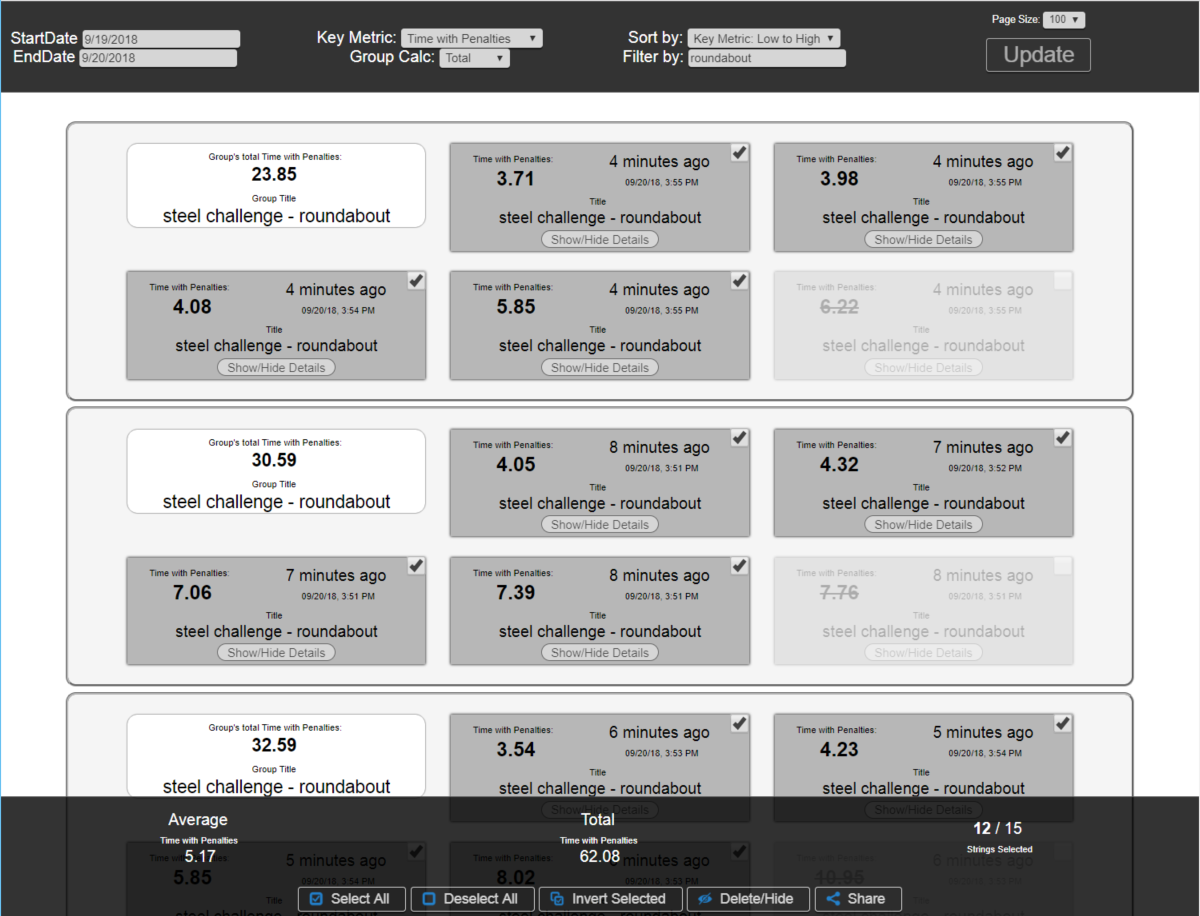 More Versatile
The traditional Shot Timer has to be near the shooter so it required that it either be on the shooter or that the Range Officer or Trainer stand very near the shooter and follow them through their course of fire.
With RangeTech you attach the shot timer to the shooter but the data is sent back to the mobile device. If the shooter is running a course of fire on their own they merely need to look at their phone and if a range officer or trainer is running the course of fire they can stand behind the firing line comfortably without needing to chase around the shooter. They can even hit the "start/go" button remotely from the mobile device.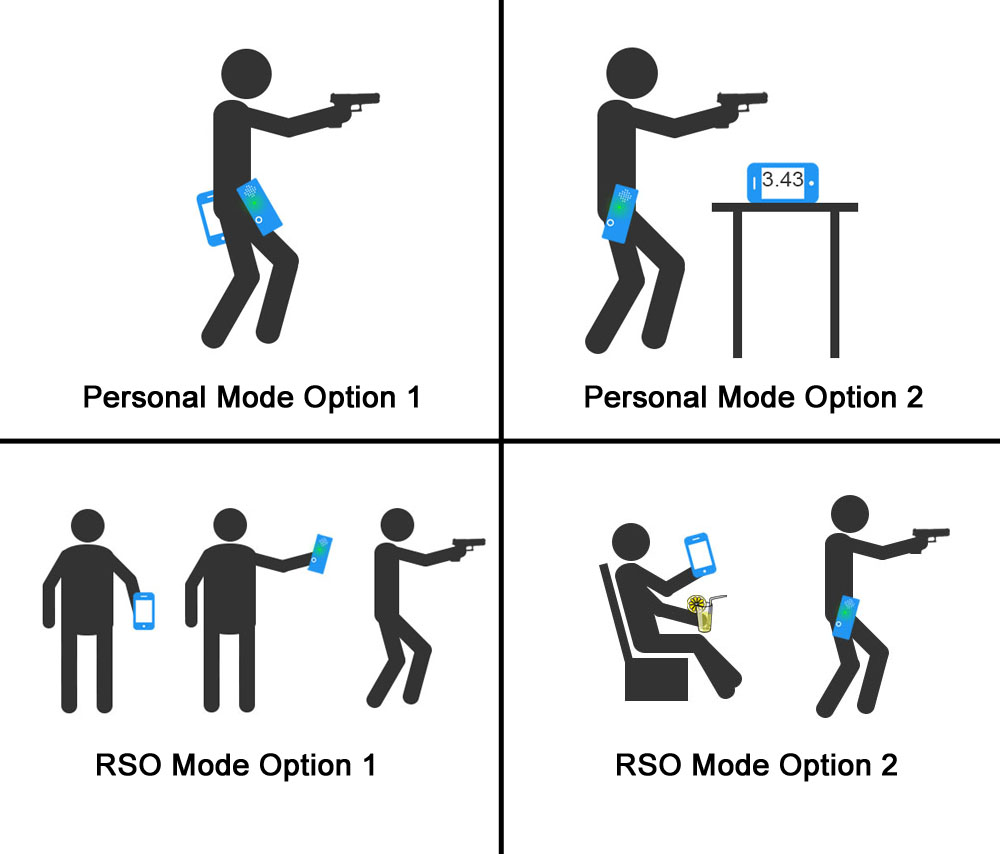 Less Bulky – Easier to Use
Since the mobile device effectively becomes the display for the information with RangeTech, the shot timer itself is smaller than traditional shot timers. The timer is 4-inches x 1.5-inches x 1.75-inches and weighs only 3.8oz. Less bulk and less weight!
In addition, the display size of your mobile device's screen is considerably larger than any traditional shot timer making it easier than ever before to see your results!
No more getting out the magnifying glass to see your times.
Plus turn your phone into landscape mode to get a BIG display of your string of fire!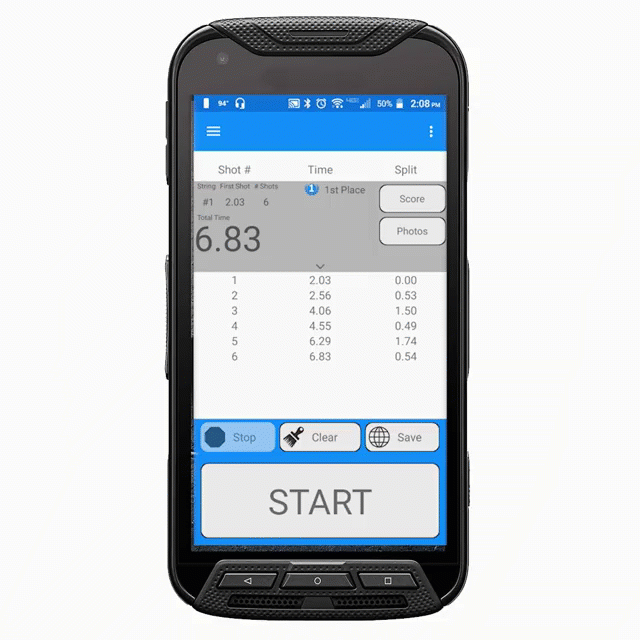 Order Now – Currently Only $74.99
Additional Benefits That Separate RangeTech From The Competition
Rechargeable lithium-ion battery with 8 hours run time (never buy batteries again)
Connects Via Bluetooth to our FREE mobile app (downloadable to your mobile device)
Turn on optional Preparatory Commands – "Shooter Ready, Standby" and other options before the timer starts (Your Phone will give you a command in advance of the start beep)
Auto Restart – For quick repetitions of the same drill, you can set the app to automatically restart between reps
Choose from various start beep sounds or mute the sound and just rely on a bright LED light
No Shot Limit in total or per string
Auto-Scoring based on USPSA, IDPA, Multigun, Steel Challenge, and other pre-programmed scoring schemas
Take pictures of your targets and attach them to the string of data for later review
Lifetime Limited Warranty protects against ANY manufacturer defects
100% Made and Manufactured in the USA by an American Small Business consisting of defensive and competitive shooters
And of Course RangeTech Has All The Features You Expect From A Shot Timer
Adjust sensitivity to ensure the best experience in both indoor and outdoor environments
Set a Par based on time or number of shots (Fully customizable set value or range with various optional audio par signals
Delayed Start. Choose a specific number of seconds or a range between two numbers (Example: Delay start between 2 and 5 seconds)
Optionally display the delayed start countdown timer
Anti Echo adjustability to ensure your timer isn't picking up false positives from steel targets or other similar noises
Direct Integration With Practiscore
Practiscore for both iOS and Android features complete integration with the RangeTech Bluetooth Shot Timer.
Record times at matches directly from the timer into Practiscore without manually entering times.
All split times are also sent to Practiscore allowing ROs to confirm the correct number of shots were fired and recorded
Splits and all data are compatible with and available in the Practiscore Competitor App which allows competitors to get more detailed data on their performance
Compatible with both Practiscore for iOS, Android, and Kindle Fire devices
Support for Par times. The RangeTech shot timer will auto adjust par time for the stage based on the Par time set in Practiscore (Practiscore 1.7+)
Adjust timer sensitivity from within the Practiscore App
Connect simultaneously to the RangeTech shot timer and a BlueTooth supported printer for printing stage results.
Learn more about Pratiscore Shot Timer Integration