Product Description
Why Gun Trusts?
If you have been in the firearm community for awhile you've heard terms like "Gun Trust," "Class 3 Guns," and "NFA Firearms." Don't you think it is time you understand what it's all about and what these things have to do with you?
If you don't take proactive action you risk all your firearms becoming public record and the government deciding how to distribute your firearms to those who inherit your belongings. Is that what you want?
This course, prepared for you in partnership between USA Firearm Training and a Law Firm specializing in Estate Law, is designed to arm you with all the information you need to know about the types of firearms and weapons controlled by Federal law, along with how to obtain those and protect them from the Government.
Meet the Attorneys
Ian Hasegawa and Jeff Paulsen of the Hasegawa Paulsen PLC Law Firm are experts in estate law. You can trust these two to know exactly WHY and HOW you need to approach regulated firearms and how to protect them from government interference why protecting your family from potential prosecution.
In addition to dealing with Gun Trusts in more than 40 states, they are based in Arizona where they help clients with various types of estate needs.
How Does This "Course" Work?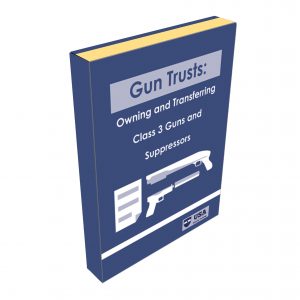 After you complete your purchase you will be have access to this "course" in two different ways. First, you will be able to download the entire course in the form of an eBook or pdf file that you can read on any computer. Also, you will have access to review and learn the material on our website in our courses section. The value of this is that our website will remember what parts of the course you have already reviewed and what you have not yet read. Also, after reviewing the course you can take a short quiz to ensure comprehension and earn your "Gun Trust" learning badge.
Plus this Bonus: "Great Eight Estate Errors"
This free eBook reviews the top mistakes that people make when they setup estates. The attorneys at the Hasegawa Paulsen PLC Law Firm review these key things you need to know in this simple to read book.